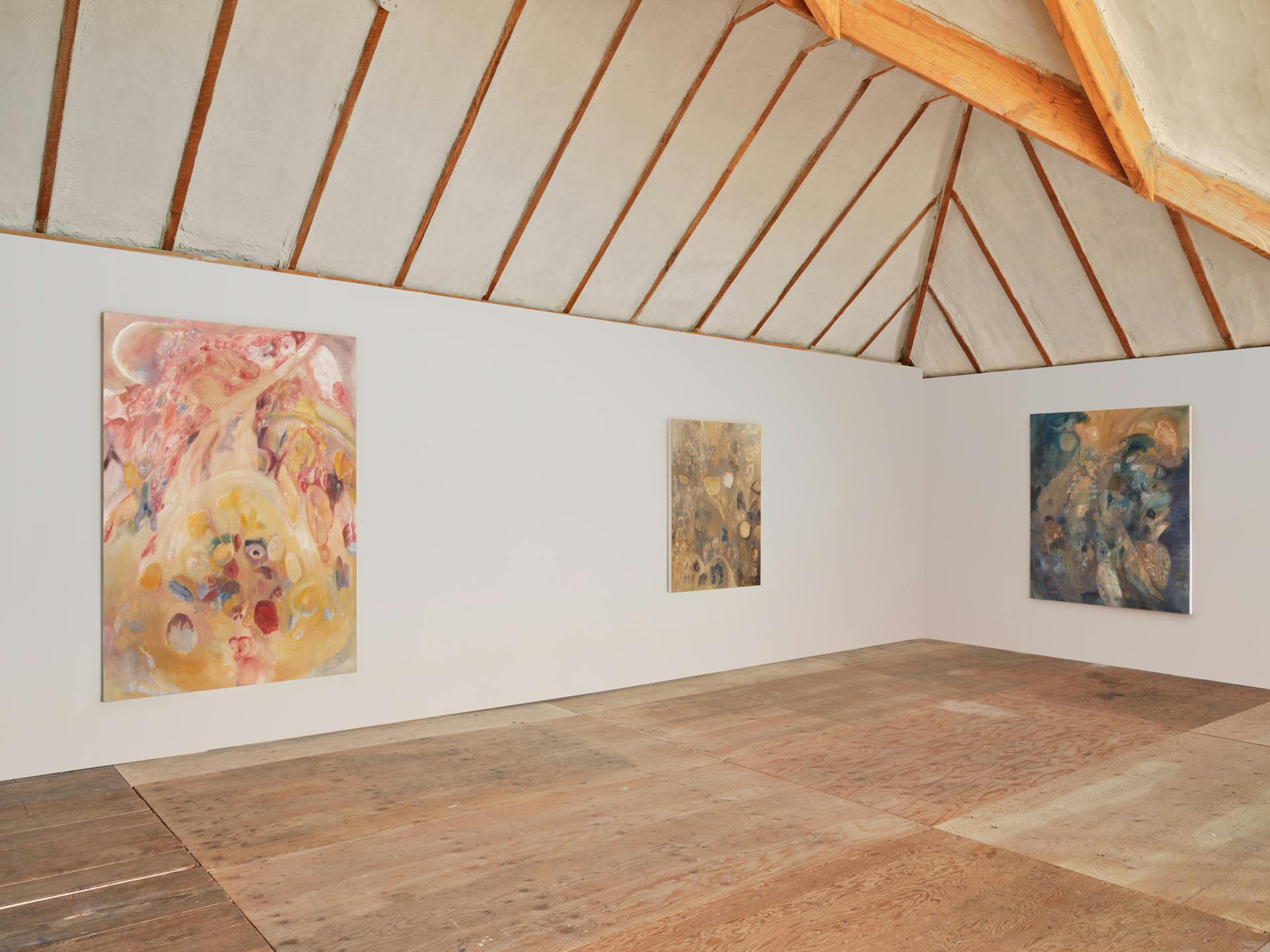 Darby Milbrath doesn't have to look too far to find the nature she so desires. Her studio in Victoria, Canada fronts directly onto bountiful stretches of sea, allowing her complete absorption in the outside world. In order to paint, she describes a hunger to 'feel submerged by nature' that is akin to a dream-like state. A meditative focus is required for her to perform the ritual of painting. It demands an acute resilience which stems, she says, from a background dancing the Limón Technique – a methodology with an emphasis on mirroring the rhythms of nature through movement. Each of Darby's spiritual experiences trickle into her paintings, the compositions blurring symbolic iconography and kaleidoscopic landscapes under layers of diaphanous paint applied over many prolonged sittings. These protracted sessions require regular excursions outside – trudging across the shore scanning for flecks of sea glass to add to her growing collection, or tending the herbs she's planted in her garden. 
Darby's approach when at the easel is almost punitive, the forms constantly growing and diminishing, rarely spared any immediate resolve. To look at her paintings is to really look and take in every ounce that nature provides. She's entranced by painters who paint under similarly sustained immersion: paintings of Canadian forests, abundant bouquets of flowers or graphite studies of trees, for example – each artist's infatuation with the outside world is palpable in every mark. 
To keep focus, Darby leans on repetitive rituals, imperative to her state of being. She finds solace in writing every morning before she paints. Once composed, she then picks an album to listen to, often choosing sacred choral music or her beloved 'Four Seasons' by Vivaldi, also inspired by the natural world. As layers accumulate on the canvases, figures converge amongst all-encompassing wreaths of flowers, Darby taking inspiration from and paintings where protagonists and nature are treated with equal fascination. With her eye most drawn to scenes in which nature outgrows humanity, she notes of her interest in painting figures who are 'humbled or made small in the landscapes'. If, at first, her paintings appear entirely abstract, ghostly trails of a former human presence soon loom, with faces doubling as petals, or bodies as stems. Each painting is conceived under differing weights and tones of paint similar, in one case, to a favourite painting of a woman in bed, or, in another, to gleaming composition of a Buddha surrounded by parti-coloured flowers. Painting to Darby functions like a dance, a practice of choreographing her unconscious mind with the transcendental nature that surrounds her every move. 

Darby Milbrath (b. 1985) is a Victoria-based artist who approaches painting as a meditative, intuitive, and ultimately transcendent act to visualize the spiritual sublimity of nature. Informed by movement, music, and embodiment, figures and flora emerge in cascading formations within abstract environments, communicating states of exaltation. Milbrath has exhibited internationally and is represented by Pangée (Montréal).