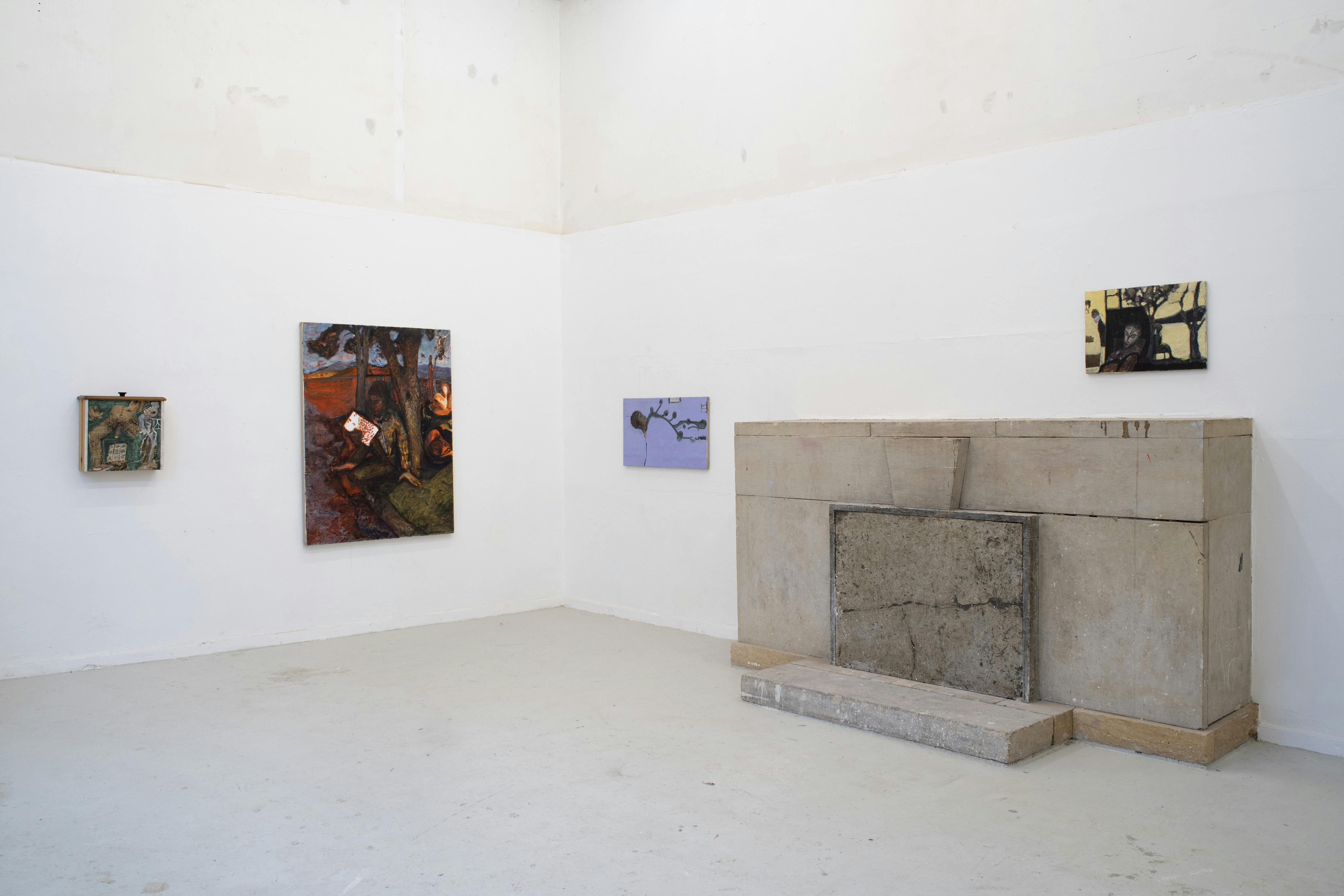 For Anton Munar, standing in front of a painting is existential. When confronted with a masterpiece at a gallery, Anton devours its ingredients with giddy fervour. He takes a position in the exact place the painter worked from, yearning to feel their presence. Painting, like breathing, is nothing more or less than essential to his being, and a way of taking refuge from the doldrums of life and embracing the present. Anton likens his own painting process to gardening, tending to each painting as if it were a slow blooming plant. His work harnesses something like the unpredictable powers of nature, mutating, sprouting, coalescing, and somehow beyond his explicit control. 
He often ponders Brice Marden's comparison to the act of painting as like 'growing moss'. Glimpses of nature often find their way into his paintings – trees and mountains from Anton's native Mallorca emerge from behind the scenes, the mottled texture from his various amalgamations of distemper, ink, pastels and oils replicating the growth of moss on bark. He finds himself referring to landscapes by painters who never burdened themselves with the need for scrupulous detail. Something like the uncomplicated trees and houses of, say, , emerge from layers of gauzy, washy brushstrokes; , in her colour-fields of Mount Tamalpais, also used her palette knife to suggest the merest edge of a mountain, leaving colour to evoke detail; and, in gardener-come-artist landscape paintings on cardboard, his paints are applied just as sparingly, suggesting an aura and eschewing specific characteristics. 
You'll notice on closer viewing that a history of layers peer from behind the foreground, his paintings never shying from their immediate past. To him, it's imperative for this ecology to inform and illuminate the figures on top. He admires painters who similarly work under these terms – impasto painting of a head obstructed by a toy aeroplane reveals flecks of orange oil behind the blues and browns, and in series of childbirth paintings, swathes of crayon are incompletely concealed by the spectral white washes on top. 
The expressions on Anton's forlorn protagonists seem as if they've been chiselled out of rock, their definite curves reminiscent of sculpted sleeping muses. These curious characters are often staring downwards in despondent contemplation, or else their attention is caught by goings-on out of sight. The glazed over eyes and thickly darkened outlines bring to mind studies of Japanese actress, Ohta Hisa, as well as nightclub paintings, where impressionistic mark-making in the DJ's face mirror the pulsating movements in the room. 
Amongst the busy scenes, a sense of foreboding lurks in every corner. In Mientras tanto lluevo/ Meanwhile I rain, a sinister devil hides behind a veil of white paint, the translucence suggestive of diaphanous painting of a silk cot. In Antes que sus sombras caigan/Before their shadows fall, a man is consumed by a spiralling wind storm, his contortion emulating a piece of hanging meat. These hidden metaphors and clues keeps Anton entranced while working. He notes that, when paintings 'look too absolute, I lose interest' – each drama is part of an incomplete narrative, suspended at the point of a compelling cliffhanger. Tranquillity seamlessly descends to commotion across all of Anton's painted worlds, coalescing as one under the thick weight of his imagination. 
Anton Munar (b.1997, Copenhagen, Denmark). Selected exhibitions include: The Disappearing City, CASTLE, Los Angeles (2023), Serious Scribbles, Marie Kierkegaard, Copenhagen (2022), Some Stories, diez, Amsterdam, (2022), Alte Freunde, neue Freunde, Class Reiss, London (2021), Listening to Bonfires, Indebt Studio, Amsterdam (2021). 
Anton Munar,
Les doy mi cuerpo para que lo pisen
I give them my body so they can walk on it