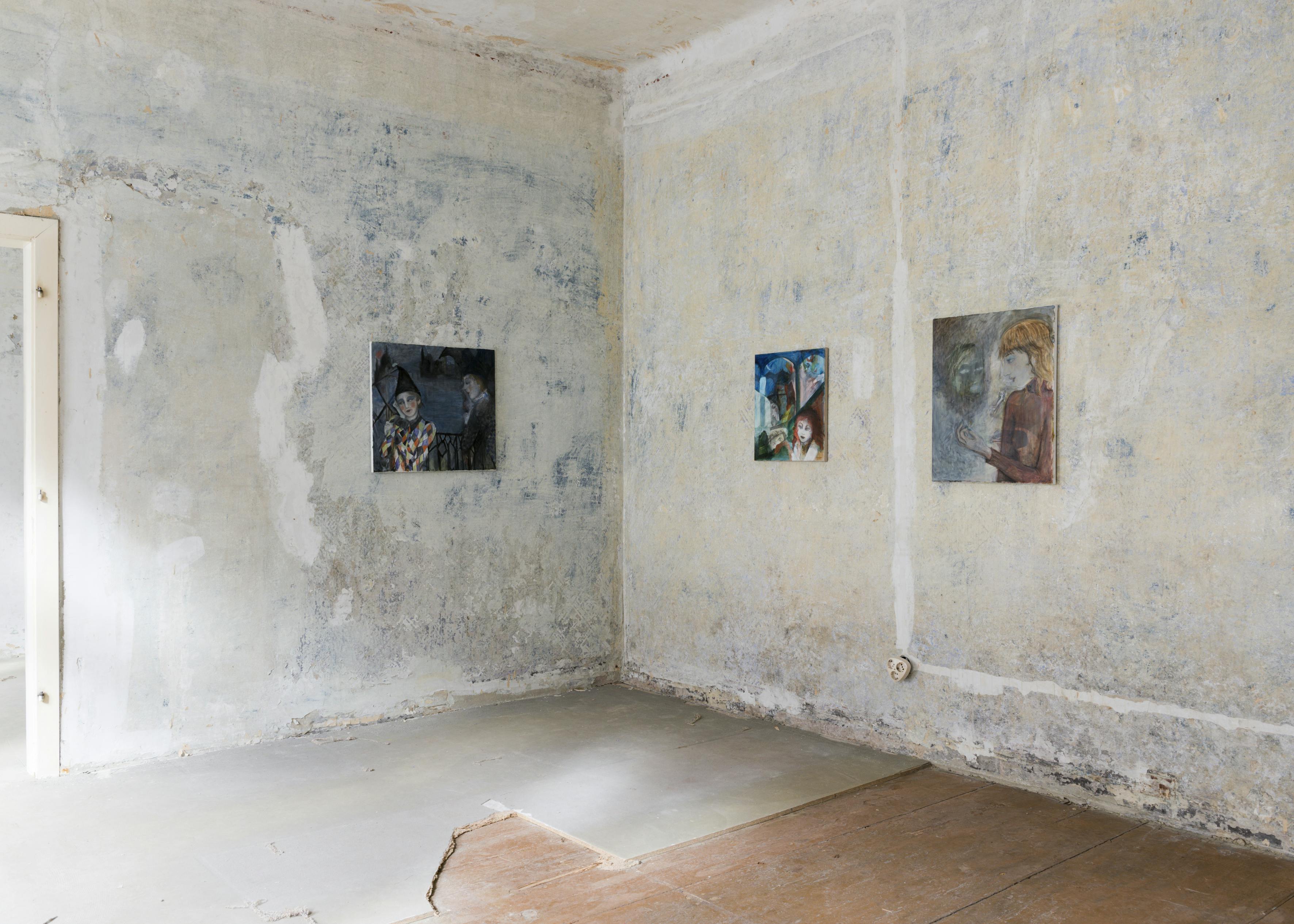 Behind Leonie's paintings lie scrupulous layers of pentimento. Earlier revisions are spared omission, to demonstrate the impact the past has on the present. As her terpentine sodden brushes forge new scenes on the surface, earlier truths reveal themselves behind each gauzy sheen. Leonie likens her approach to painting as resuscitating the dead, noting that she's only finally content 'when the paintings are on the brink of dying'.
It's no surprise that her inspiration pools from artists who also embrace painterly spirits. Painting in the ghoul-fixated late-1800s, Alphonse Osbert and George Frederick Watts encapsulate the apparitional illusions Leonie strives for, too. Conceived in spectral tones of blue and white, Osbert's feigns a lapsing dream, as the central figure and sheep share the same cerulean plane – and, in Frederick Watts' painting , a knight confronts a mirrored reflection of his own deadened face in diluted paint. Across almost all of Leonie's paintings, her protagonists directly engage with the past, as an earlier spectral character haunts the scene, or a pair of eyes lurk from behind shadows. 
Her background as an avid draftswoman influences the way she conceives characters to paint, their almond shaped eyes and definite facial features reminiscent of a children's picture book. Leonie often draws from paintings for reference, admiring his ability to balance illustrative expressions with more ladened, personified details. In Leonie's more bustling paintings, you'll notice how the characters hold somewhat reticent, suspicious expressions, as if secrets are being passed across the picture but withheld from the viewer. The clothing they wear is inspired by Leonie's fascination for costumes in Jane Austen period dramas. She then juxtaposes the opulent bonnets and ruffled waistcoats with elaborate make-up influenced by her taste for films by and clothing by Vivienne Westwood. 
Amy Sillman noted that 'every painting I've ever done has like 100 paintings under it.' Leonie vouches that hers have some 20 to 30 layers behind, using swathes of flat colour to hone certain areas in a similar vein to abstracts, where white oil is applied as a halo to the shapes inside. She finds it useful to look to abstract painters such as Gorky, or her boyfriend , in how they find order amongst seemingly disparate layers, while her characters emerge directly from artists like of the Symbolist movement in the 19th century: she shares Khnopff's dextrous ability to build numerous subplots under the roof of a single canvas. They are paintings that never shy from their history, yet muster a timeless quality and leave you compelled for more. 
Leonie Plattner (b.1998, Sterzing, South Tyrol) lives and works in Vienna. Studies at University of Applied Arts Vienna
Leonie Plattner,
Frozen Warnings