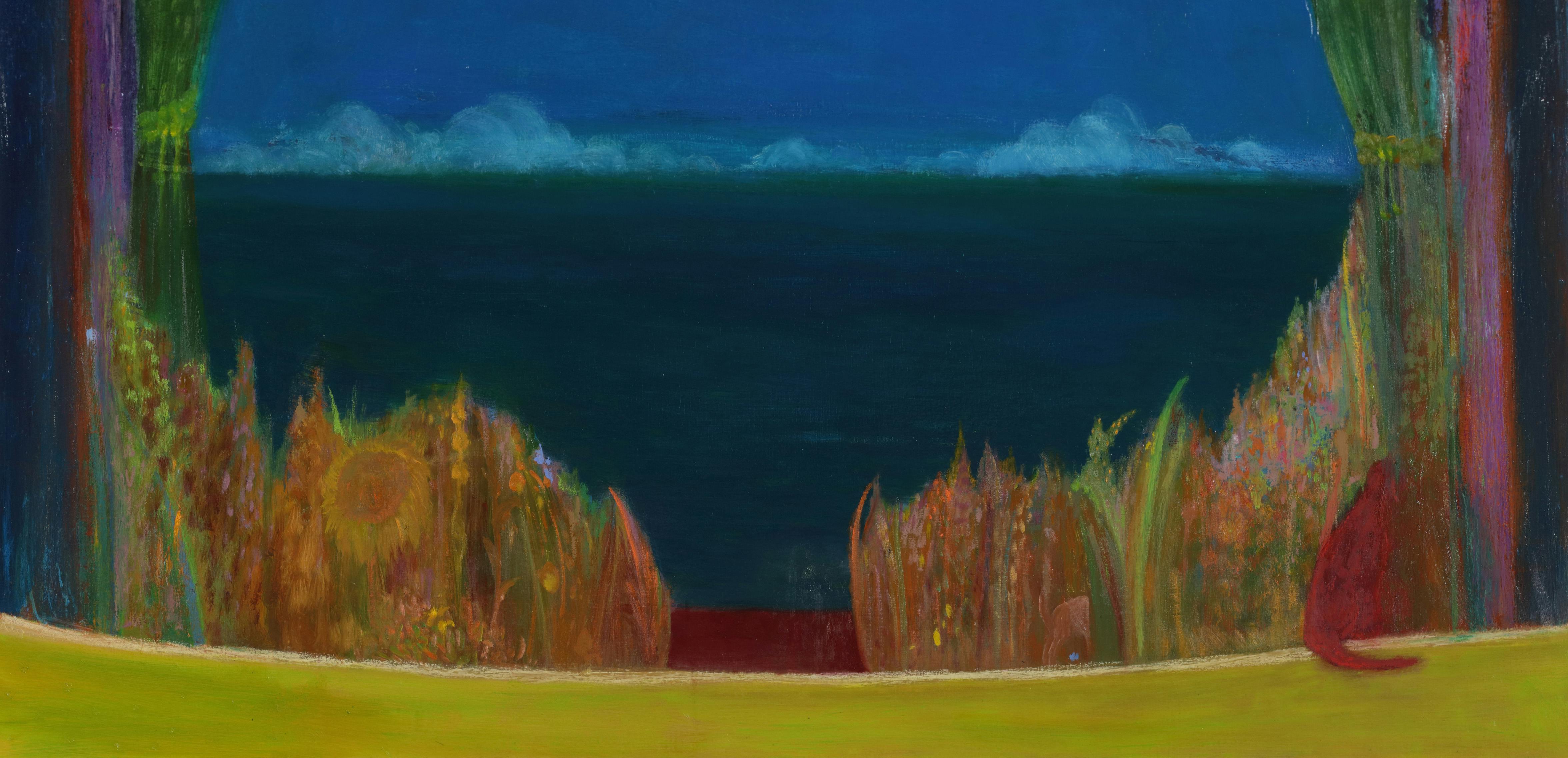 Amongst Daniel Um's small canvases, bountiful tales evolve. Handheld in their scale, just like novels these paintings unfold like an unravelling plot, his inclusion of expansive landscapes and curious figures, akin to those plucked from children's picture books. Daniel has a background in drawing and, as a current illustration student at Parsons School of Design in New York, he's accustomed to the techniques a raconteur requires to form a gripping story. 

Many of his favourite artists – , , , – tend to paint with the same mindset as a novelist working on a storyline. At first glance, the worlds depicted in each painting seem fairly quotidian; then closer readings reveal a deeper sense of incongruous surrealism rumbling from behind. In Daniel's, the glinting of a fantastical world suspended by subtle sleights of hand sink us further into his daydreams – as a towering figure guides a mystical white bunny on a walk through the cobbled streets of Amsterdam in 'Amsterdam's December', or in 'Memories Back to Shore', where a lurid red cat is perched in front of a crescent moon behind. 

Daniel takes time honing his stories, often reworking over layers of incomplete chapters behind. In 'Memories Back to Shore', an older painting depicted a vibrant orchestral scene from a trip he took to The Royal Concertgebouw in Amsterdam, which – although almost imperceptible – hovers behind like a luminous spirit. Having been born in Korea before moving to Shanghai, Los Angeles, New Jersey and spending his recent years in the bustle of New York, Daniel found the shifting pace of Amsterdam an all too familiar normality to adjust to. He's often most in his element when inhabiting these foreign surroundings, the lonely protagonists becoming stand-ins for his own sense of isolation when sat behind the easel. Quite often paintings in which a solitary person or animal roam wondrous landscapes leave a more lasting effect on him – the scenes by , , or portraying characters enthralled by their own reverie. 

In all but a few paintings, Daniel leaves large expanses of colour devoid of ladened detail to bring our attention to the main sub-plots playing within. Below every layer awaits a history of his decisions and indecisions, each painting bringing us closer to his ever-churning mind as it swells with new ideas. 
Daniel Um (b. 2001 Seoul, South Korea) Lives and works in NYC. Selected Exhibitions include: Sun To Moon, Turn Gallery, Group show, New York, NY (2023), Life in Color, The Room London, Group Show, London, UK (2022), The Power To Dream, Galerie Hussenot, Group Show, Paris, FR (2022), Loft 121, Group Show, New York, NY (2021).