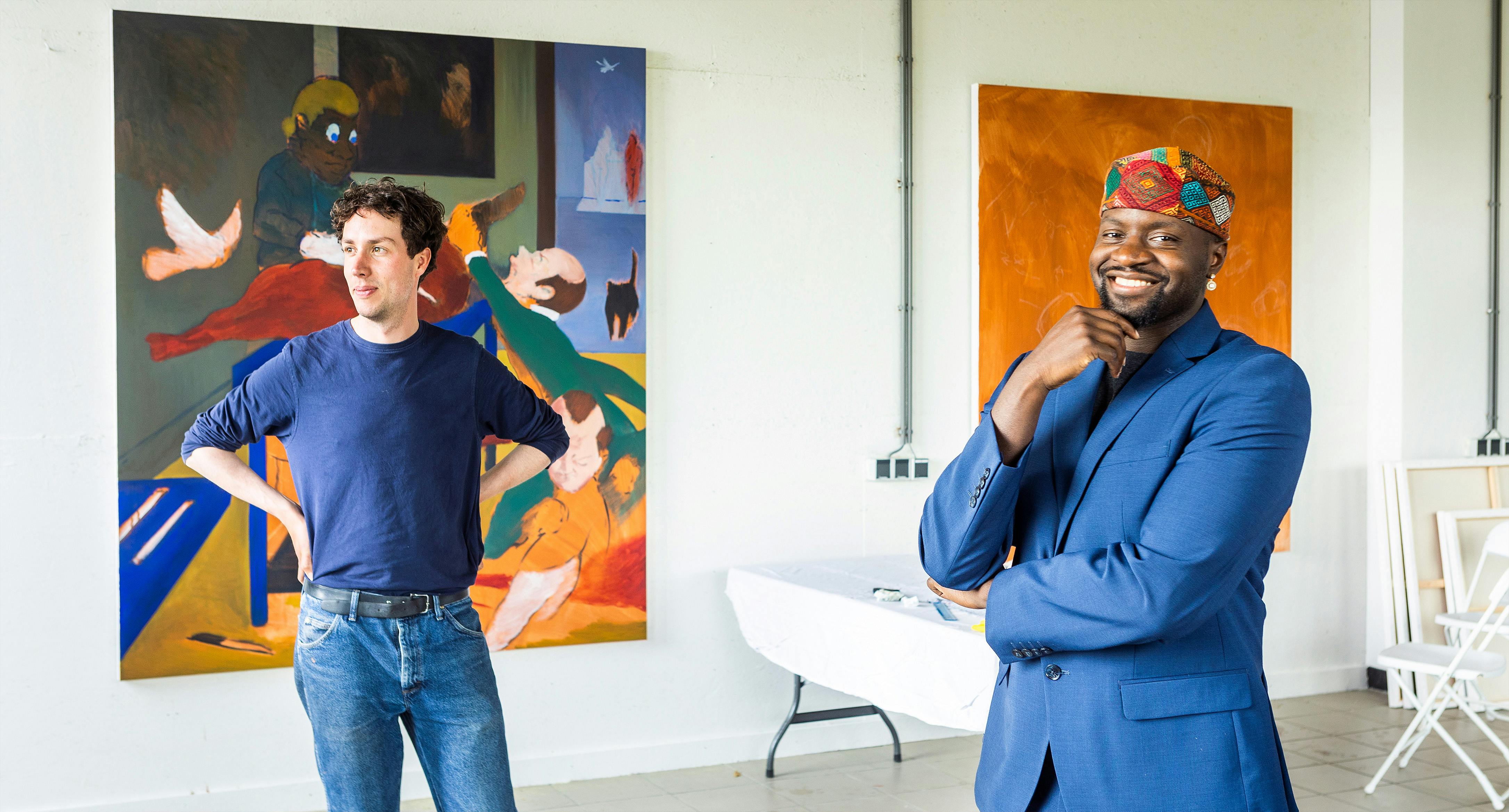 Kenrick McFarlane
Kenrick McFarlane's visuals are what moves the people. This seems to be the main premise from which derives his intriguing painterly oeuvre. Interested in new ways, angles, and venues through which internal experiences would come forward, the work often reflects current personal state. And the new body of paintings that the Chicago-born artist developed in the recent two years is reflecting a more stable period of curiosity and capability to tackle intense subjects. Subjects that push the artist closer to the dark places and beyond what's comfortable, while shifting the dynamics from calm, pleasant, and slightly mysterious to edgy, intense, and provocative.
In opposition to lighter, quieter themes of McFarlane's earlier work, the new paintings are imbued with whimsical, fantastical ambiance. This is achieved by intertwining visual cultures from different time periods and collaging complex, often confusing, or misleading narratives that don't necessarily add up. Stemming from the initial openness and readiness, this approach is all about devising own aesthetic by remaking, adapting, and rearranging elements of existing visual languages. Interested in exceptional imagery which has the potential to inform the conceptual aspect of the work, the LA-based artist is regularly looking at photographers and cinematographers that are operating beyond the painterly tradition. This is how influences of Francis Bacon, Adrian Ghenie, or Neo Rauch, morphs through the prism of the likes of Alejandro Jodorowsky for example. Enjoying the role of a play writer of sorts, a cast of diverse characters is employed to create an ambiance of drama that is somehow familiar, yet confusing, but still engaging and almost inviting at the same time. By intuitively remixing observed images, paintings, photographs, and movies, McFarlane tends to quickly swerve off from the original reference toward the charged, over-the-top, absurd state. This is where he's regularly turning to the language of cartoons and their ability to capture and express the human psyche in an extreme, exaggerated way, making it easier to face and consider.
Drawing both from photos and from imagination the work gets pushed further into fantastical space, creating interesting moments that excite, intrigue, and take risks. Adding or proposing new meanings to imagery with strong symbolic value, the subject of ego and the idea of humanity as an exploiting collective looms underneath the surface of fairly amusing scenes. As a sensitive person, McFarlane is sincerely enchanted by visuals that might feel uncomfortable and the consequential feeling of acceptance. Using art as the safe space to be as open and as vulnerable, these paintings become a spiritual way to dig into and potentially comprehend emotions buried deep inside his soul. At the same time, they capture the element of fun and honest pleasure in mark-making and construction of images, while shifting from referencing cartoons or traditional tropes to making expressive marks and pushing everything into abstraction. In the end, all of this informs painterly psychological thrillers that are beautiful, lively, and exciting on a formal level but perversely subverted towards a flawed and wretched atmosphere on a psychological level.
Kenrick McFarlane (b. 1990, Chicago) received his BFA from the School of Art Institute of Chicago and studied in the MFA program at University of California, Los Angeles. McFarlane had his debut solo show, Face Off, at the Gene Siskel Film Center in Chicago and has since exhibited across the U.S. and South Africa. In 2012, McFarlane was selected by Kerry James Marshall to participate in the exhibition Eclectic Coherence, curated by Dawoud Bey, at Expo Chicago. McFarlane's work was most recently exhibited as a part of Shattered Glass at Jeffrey Deitch Gallery in Los Angeles. Kenrick McFarlane lives and works in Los Angeles.
Stephen Polatch
Through his practice, Stephen Polatch is using the familiarity and the mundanity of everyday scenes as basic foundations on which he explores both technical and emotive aspects of painting. And whether working with oil on canvas, or egg tempera on panel, the direct observation puts the groundwork for his paintings. Interested in the alternation of the real-life, non-assuming moments, he is sometimes intertwining elements and scenarios or is shifting the atmosphere with the colour palette or the ways of painting. And during his recent one-month stay at the PPP/ Oostmeijer residency project in Amsterdam, the picturesque sights of the post-pandemic Dutch capital in the spring provided an array of fresh references to work from.
After actively "hibernating" throughout the winter with an intensive studio routine in Glasgow, Polatch was eager to spend spring Amsterdam days sitting at cafes and parks, drawing from life and sketching his surrounding with ink on newsprint paper. Curious enough to see beyond the exactness of the image before him, he created a large body of pictorial notes during these immediate and usually very productive sessions. Limited by the tools' and medium's restricting nature in terms of capturing the descriptive qualities of the scenes or the protagonists, the accent in these sketches is put on the composition, the uniqueness of the observed elements, and their potential within the painterly sphere. The fountains, park greenery, cylindrical poster panels, beer ads, bikes, blue skies, and an abundance of glasses, are some of the elements that caught the eye of the London-born artist as he was experiencing the Dutch capital for the first time. And although the resulting paintings clearly reference elements directly sourced from his new surroundings, they're still holding connecting points with his previous, as well as are opening up new avenues for upcoming bodies of work.
After drawing from life, Polatch proceeds to draw with colour from sketches, and during this transformative step, the unconnected aspects from two separate locations might get collaged into an exciting, fantastical scene. Actively avoiding the trap of simply documenting his surroundings and constructing his own stories with given hints instead, this step distances him further away from the experience of the depicted scene and creates a particular moment between drawing and painting. While employing the egg tempera and its distinctive qualities to emphasise this aspect of the work, the Glasgow-based artist is removing the information from the image and is entirely focusing on its design. Within this framework, the thin, semi-opaque, or transparent layers of the fast-drying medium capture the intricate paint application, while bringing a sense of timelessness to the front. The chosen reference moments are used merely as blank templates, a collection of elements that could work together, and are often going a complete reinvention through the seductive process of painting. Wrapped in a smooth matte finish and devoid of deep colour saturation, the soft, earthy, natural pigments transform the observed contemporary life scenes into romanticised, borderline fantastical narratives.
Stephen Polatch (b. 1990, London UK) lives and works in Glasgow, UK. After completing his BFA at The Ruskin School of Art, Oxford in 2013, Polatch went on to complete a Postgraduate Diploma at the Royal Drawing School in London. Recent exhibitions include, To be a giant and keep quiet about it, Margot Samel, New York (2022), Clyde, Soft Opening, London (2022), Peepers, K Halstead, London (2021); A Many Voiced Argument with Life, Glasgow International/Market Gallery, Glasgow (2021); Prestwick, New Glasgow Society East, Glasgow (2021); The Amber Room II, Amber Room, London (2020); Eigenheim, Soft Opening, London (2020); Graven Images, New Glasgow Society, Glasgow (2019); Drawings of Iasi, Iasi, Romania (2019); Bilder, New Glasgow Society, Glasgow (2018) and Unswept House, Unit 42, Glasgow (2017).
Written by Saša Bogojev
Text written by Saša Bogojev
Photography by Marijn Scheeres and Michiel Elsevier Stokmans
Kenrick McFarlane & Stephen Polatch,
The PPP / Oostmeijer Residency